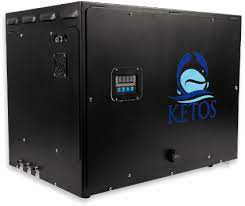 Need help testing for dissolved boron and dozens of other water testing parameters? Find out how KETOS SHIELD simplifies water quality monitoring (while cutting costs).
When your company needs a solution to take on multiple water testing parameters, turn to KETOS SHIELD. KETOS is a hardware/software solution that provides real-time monitoring for dissolved boron and 30+ other parameters (such as other environmental factors, heavy metals, and more).
Why Monitor Water for Dissolved Boron with KETOS
Boron can enter water supplies via various methods, including the natural weathering of rocks. Boron can also enter a water supply via human activities, including fossil fuel combustion and wastewater discharge. It is present in everything from pesticides to cosmetics to consumer products. Some areas (such as California, Nevada, and Oregon) also have higher levels of boron concentration in their soils. Water contamination can happen directly (via wastewater and municipal sewage) and indirectly (via air deposition and soil runoff).
The federal government doesn't regulate boron in drinking water. While public water systems are not required to monitor for it federally, there may be state-level drinking water guidelines that can apply to your organization. For example, the states of Florida, Maine, New Hampshire, California, and Wisconsin all have various standards and policies for boron that allow for acceptable levels ranging from 0.6 to 1 mg/L.
If you are in an industry or organization that requires the monitoring of boron in your operations, you can do so with KETOS. You can test for boron on-site and leverage lab-accurate, EPA-compliant results (in ppb) to understand the levels of boron in your water supplies. This allows water operators to stay compliant with local regulations while protecting against contamination or spikes in boron levels.
Monitoring for dissolved boron is just the start! Discover all of the upsides of KETOS SHIELD with our latest overview.