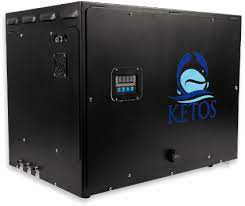 KETOS SHIELD can monitor for pH and dozens of water quality parameters. The device is modular and interoperable while reducing costs traditionally allocated to manual testing or third-party lab fees
Users get accurate monitoring for pH and various other water testing parameters. Results are lab-accurate (in ppb) and EPA-compliant. Water is tested as often as an organization requires, and real-time results/threshold alerts are delivered right to a water operator's device (mobile, laptop, tablet).
Why Monitor Water for pH with KETOS
pH is the measure of acidity, alkalinity, or neutrality of water. Higher pH levels indicate more acidic water, whereas lower pH levels indicate alkalinity.
pH is an integral part of water testing for purification processes. A change in pH can alter the behavior of other chemicals in water. It can also affect quality as pH changes in water ultimately alter the taste, color, stability, acidity, and shelf life of food and beverage products.
Beyond food and beverage processes, pH is essential for community water supplies as unbalanced pH levels can lead to pipe corrosion, which, in turn, can lead to heavy metals entering drinking water in homes. In an industrial context, such corrosion can also lead to damaged equipment and increased downtime. Therefore, it's integral that pH is monitored and balanced in both municipal and industrial applications.
Gain insights into all of your water testing parameters, including pH, all from one place, with KETOS.