Groundwater availability and quality is a critical concern in a variety of industries including agriculture, municipal, and a host of industrial applications. For example, as climate change affects aquifer levels – water composition can also change (e.g. high salinity or boron at toxic levels). In agriculture, changes in groundwater composition can significantly impact crops. High-frequency testing can be an early warning for potential wells running dry with drought but also for a change needed in treatment to support optimal growth.
Whether groundwater is used to irrigate crops, provide drinking water to localities, or as an integral part of various manufacturing processes, communities and industries have a vested interest in finding ways to use less water, protect existing sources from overuse, and to return water back into the environment in a sustainable way in order to replenish supply. Making informed decisions about water use and quality starts with capturing the right information and analyzing it in real-time so decisions are based on the most current and most accurate data.
The KETOS SHIELD and the KETOS Smart Water Intelligence Platform create a vertically-integrated quality groundwater monitoring system and work in tandem to remotely provide lab-accurate water quality data in real-time for over 30 parameters – enabling operators to manage compliance thresholds, ensure water quality, conserve water, and reduce cost.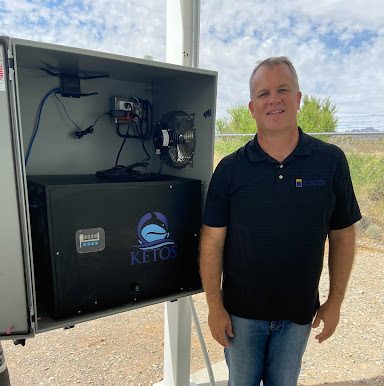 What Water Quality Parameter Do You Test Most Often?
The KETOS SHIELD remotely monitors dozens of water quality parameters. Which one do your water operators test most often?